I love getting letters and cards, so I have a little idea. If you are like me and enjoy sending notes, letters, and cards, you might want to hop on this train.
I have joined up with Melissa from Grin and Barrett for her very first Little Note Exchange. Here is how this will work.
You will sign up below by completing the embedded form and submit. We will then assign partners to exchange weekly notes, letters, and cards starting on May 1. The notes and cards can be blog related or not. We can make this blogging community feel a little bit smaller. For 30 days you will have someone to write to, encourage, and share a little mailed excitement with!

Here are the steps to follow to join in. Please complete all steps!
1. Follow G&B and The Charming blog via Bloglovin' (this will ensure you will see the post with your assigned partner).

2. Complete the form below.

3. Grab the button below to share the fun!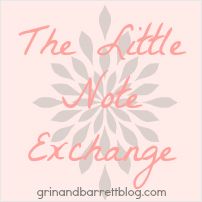 4.Come back on Tuesday for your assigned partner.

Disclaimer: Please sign up only if you are committed to send at least one card, letter, or note per week for the month of May.

You can always send more if you want!

See how easy that is? And it will be SO much fun!

If you have any questions, feel free to comment below.