Hello everyone! My name is Rachel and I blog over at
lala Lists
. I am so excited to help kick off Amy's
We Do Design
week with a little lesson in typography and a big freebie!
Typographic designs are so huge right now! You see posters, wallpapers, printable, etc on Pinterest, Etsy, Storenvy,
everywhere
!
And as fancy as they look, just about anyone can do them. How you may ask - by mixing typefaces. I will admit that I am a bit of a font junky which makes picking fonts both easier (because I have several options) and harder (because I have so many options). But if your collection is lacking, fear not! There are tons of places you can go for free fonts. Here are some of my favorites:
I suggest just bopping around and downloading what you like - just make sure you get a
variety
! Scripts, serifs, sans-serifs, handwritten, blocky, flourished, all caps, all lowercase - just try to get a little bit of everything! Another great thing you can do is search Pinterest for "free fonts", and just click, click, click, click, click!
Then comes the fun part! Open your design software. I prefer InDesign but you can also use Photoshop. If you don't own the Adobe softwares and are looking for something free but useful, I would check out
Gimp
. Write out what you want in advance, then make a bunch of layers, in a bunch of different styles and just play!
One of my current favorite things is the chalkboard effect! Just do a google image search for "chalk board background" pick one you like, and put your type in white! My other favorite trend right now are calendar backgrounds, I love the little bit of spice it can add to my desktop. And since this is design week, and the whole point is to learn and try new things, I decided to try making my own desktop calendar to share with all of you!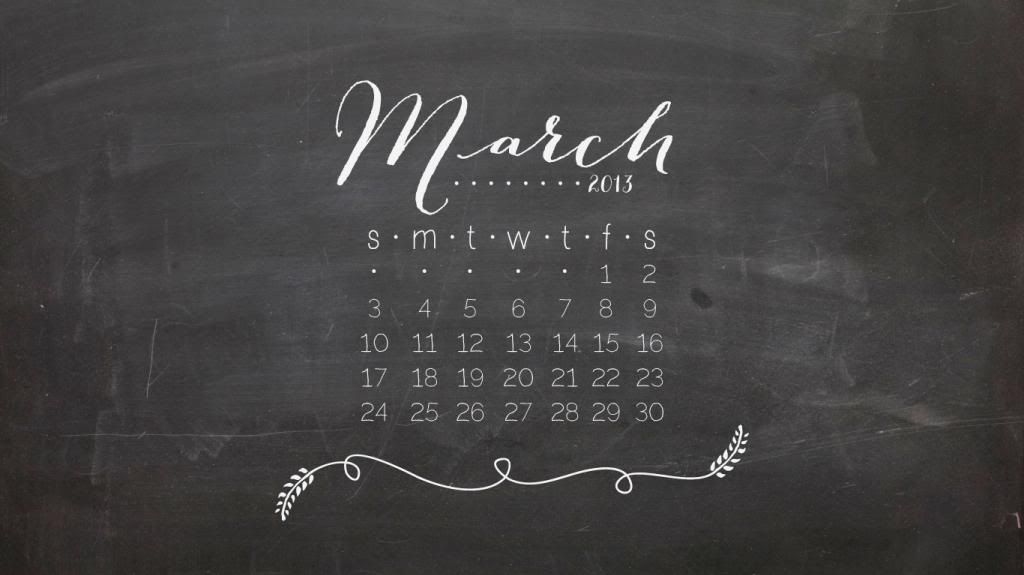 Believe it or not, this actually has 6 different typefaces in it! March, 2013, the days of the week/little dots, the numbers, the curl at the bottom, and the laurels are all from various fonts I have picked up over the years.
I made it in a variety of different sizes so everyone can use it (use
this website
to see which is right for you). Just click the right size and either save it or right-click to use as your desktop background!
Collect fonts, collect inspiration, play around, and just have
fun
with it! I recently did another typography and quotes project if y'all want to get your hands on some pretty
phone wallpapers
.
Stop in and say hi, I would love to get to know you and see how your own typographic prints turn out if you try them!