Today, I wanted to share with you some of my favorite resources, tips, vendors, etc for various parts of the wedding process. I know there are plenty of you out there that are engaged to be married some time this year, so here are some things that might help you during the planning process! (I'll do a separate post on just the wedding day/weekend.)
These
quick wedding-day fixes
(even though I haven't been there) sound like such a great idea if you need to get a stain out of your dress, shine that ring, or make that stubborn zipper your b*tch.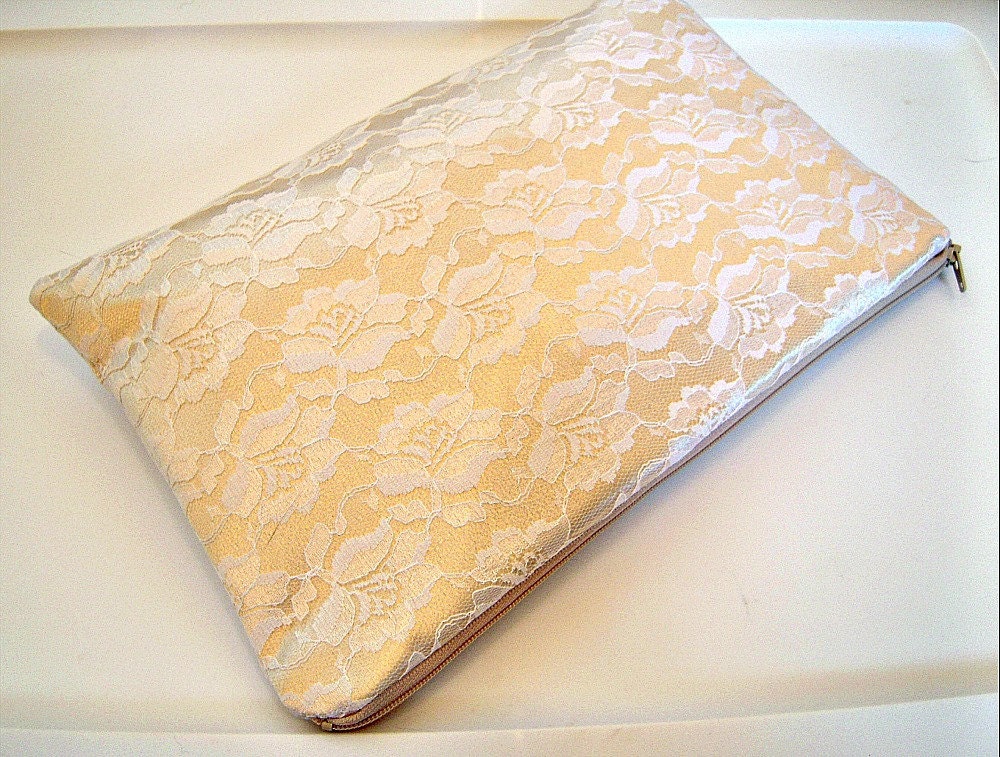 A great etsy shop, had a beautiful clutch that I wanted for the bridesmaids. I contacted her about having a custom order, and she was
so
great. The clutches turned out
beautifully
.
Here is the listing of the clutches I bought
(also pictured above). She has a whole bunch of other great clutches, purses, and various accessories and I definitely plan on buying from her again - next time for me!
Tamras Bag
-- Bride's bag and "Mother of the-" bags
I was worried about the lace on the clutch above and the lace on my dress, so I opted for a silk bag for myself as well as for my mom and Duncan's mom -- because I wasn't sure if their dresses might also have snaggable parts. I found
Tamras Bag
shop on Etsy and loved the style of her bags! I ordered a gold one for me and a black one for my mom and Duncan's mom. This is another store I just can't stop swooning over!
Amazon.com
I ordered a good few things from them. With my Amazon Prime membership, everything was 2-day free shipping. I always made sure to cross check items at a store with what I could get from Amazon.com. In fact, a few things from our registry are from them because they don't have sales tax to mess around with, making them hard to beat!
I stumbled across The Lace Shop for getting personalized handkerchiefs for the moms, as well as one for myself. I think that they did a great job.
Wedding Wire
-- wedding checklist, vendor search and reviews, & website
Though I initially was gungho about The Knot, I quickly found I was way more impressed with Wedding Wire. I found my photographer on Wedding Wire and Duncan and I both love him. The checklist was awesome (I use the app on my phone, as well) and I liked the wedding websites option much better than The Knot's. I even started up a separate Wedding Wire page solely to keep the wedding party and family up-to-date on details that applies just to them (rehearsal time, rehearsal dinner location, when the before pictures start and for whom it applies, etc). That way if people had questions (and that is always the case), I can just refer them to the wedding party website.