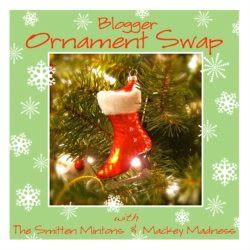 The sweet Megan, from
Mackey Madness
, joined up with Julie, from
the Smitten Mintons
, to do an Ornament Exchange. I was partnered with the smart, fun, and lively Jess from
Pretty Physicist
. It was a lot of fun doing this -- even though I was so flustered from cleaning, rearranging, and life I accidentally had to ship my ornaments for Jess in two shipments because I forgot to put one ornament in the first shipment (it was hidden under a stack of papers on my desk from when I was cleaning it out).
Here are my charming and just oh-so-perfect ornaments from Jess:
Oooh, I love them so much! Thank you, Jess!
Have a wonderful Wednesday!